EURO-BOWLING has been manufacturing, installing and selling bowling lanes since 1995.
EURO-BOWLING is active throughout Europe; main branches are located in Poland, Slovakia, Croatia, Russia and Hungary.
EURO-BOWLING is the Europe's most advantageous solution of professional bowling products with the lowest installation costs and subsequent operating costs.
EURO-BOWLING delivers, installs and services all string- and stringless technologies.
EURO-BOWLING installs new bowling lanes and technologies fulfilling the most stringent criteria; these will satisfy hobby and professional players aline (our product range includes professional stringless pinsetters and also hobby-level string pinsetters).
Two-lane bowling and three-lane bowling - assembly.
EURO-BOWLING also offers installation and service of quality skittle setters, including the electronics – "Nine bowling".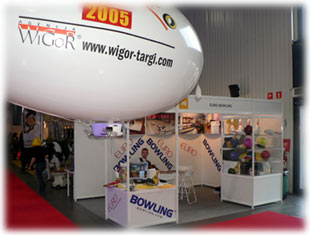 EURO-BOWLING has ABC, WIBC, and ISO 9001 certificates for offered products and accessories.
EURO-BOWLING offers only high quality products, durable and reliable.
---
© 2005-9